London, UK, May 22, 2018 – Leader Electronics will demonstrate the advanced HDR measurement capabilities of its LV5490 4K multiscreen video and audio test instrument at the June 12-13 Media Production Show in London. Exhibiting with Jigsaw24 on stand 200, Leader will be represented by managing director Koichi Fukagawa and European regional development manager Kevin Salvidge.
"HDR offers television producers and digital cinematographers double the dynamic range of SDR provided they take full advantage of it right through the production chain," Kevin Salvidge comments. "The LV5490 provides full direct support for HDR production in full conformance with ITU-R BT.2408-0 recommended practice. In cooperation with Jigsaw24, we will be showing how that translates into actual operation both during the initial shoot and onward through colour grading and post-production."
The LV5490 4K/HDR waveform monitor supports preconfigured settings to ensure the reference levels are correct for both HLG and Dolby PQ production. A 75% HLG or 58% PQ marker is also displayed automatically on the waveform monitor graticule. This represents the reference level, enabling the vision engineer to ensure that any object placed at the centre of interest within a scene occupies the appropriate signal range and that sufficient headroom is reserved for specular highlights.
Another recently added feature is system gamma Optical-Optical Transfer Function functionality for HLG and Sony 'SR-Live for HDR' workflow.
Leader's LV5490 offers 4K, UHD, 3G, HD and SD test and measurement features in a half-rack-width by 4U portable unit with a full high definition 9 inch front-panel monitor. It provides all the capabilities needed to implement the full potential of high dynamic range in both HD and UHD.
Signal displays such as video waveform, chroma levels, colour vectors, bar graphs, noise, video patterns, quad-3G phase, data tables, camera picture output, colour chart, multichannel audio levels and surround-sound vectors can be viewed simultaneously in a user-customisable layout. If a specific element requires detailed attention, this can be selected quickly for viewing at higher resolution or full-screen.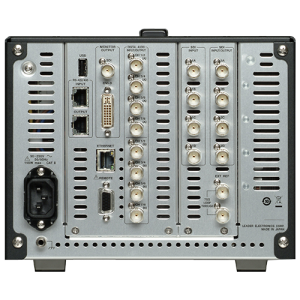 The Leader CINELITE HDR toolset also comes as a standard feature of the LV5490, allowing easy assessment of relative exposure and overall luminance during production. A focus-assist option allows highly accurate on-set adjustment of camera focus to match the ability of 4K and UHD formats to handle very precise image detail.
Supplementing its front-panel display, the LV5490 provides 1920 x 1080 HD DVI and HD-SDI feeds for connection to external monitors. Simultaneous viewing of up to four 3 gigabit/s SDI inputs is possible, including overlays. The size and location of individual channels can be adjusted on the display using a USB pointer so the user is not limited to fixed-size quadrants. Operators can select the size and position of the measuring area as well as the Y/G/B/R component channel. An alarm can be set to alert operators if the noise level exceeds a predefined threshold. An integral low-pass filter allows elements of the high frequency band to be removed at the time of noise measurement.